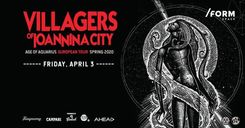 Exclusiv pe iabilet.ro
Villagers of Ioannina City | European Tour at /FORM Space
/FORM SPACE
,
Cluj-Napoca
Aleea Stadionului 2, Cluj-Napoca 400000
miercuri, 14 octombrie, ora 20:00
Data mentionata pe eveniment este temporara. Aceasta data nu este stabilita oficial si nu este data FINALA. Revenim cu data oficiala curand!
Historically, every single time a musical movement took form, or a local scene emerged, the roles of the bands involved have been similar.
Mai multe detalii